Annapurna region is the popular trekking region in Nepal and busiest trekking destination of the world after Everest base camp trek. Trekking to Annapurna region is not much difficult every beginner can do the trek. There are many trekking routes in Annapurna Trekking Region. Among them Annapurna Base camp trek is the most popular trekking routes and Annapurna circuit is scenic and adventurous trekking in Annapurna Region.
Itinerary and Annapurna Trekking Route Maps
In Annapuran Region there are two major famous trekking routes Annapurna Base Camp and Annapurna Circuit. Trekking around around the Annapurna is one of the most popular treks in the world. Normally, it takes about 3 weeks to finish the whole circuit but these days it can be done in two weeks or about 16 days. On the other hand Annapurna Base Camp trek can be done in 2 weeks or less than two weeks (about 11 days). There are other short routes in Annapurna Region such as Ghorepani Poonhill Trek, Mardi Himal Trek, Jomsom Muktinath Trek, Ghorepani Poonhill circuit Trek. The entire trail is scenic and rich natural and cultural heritages.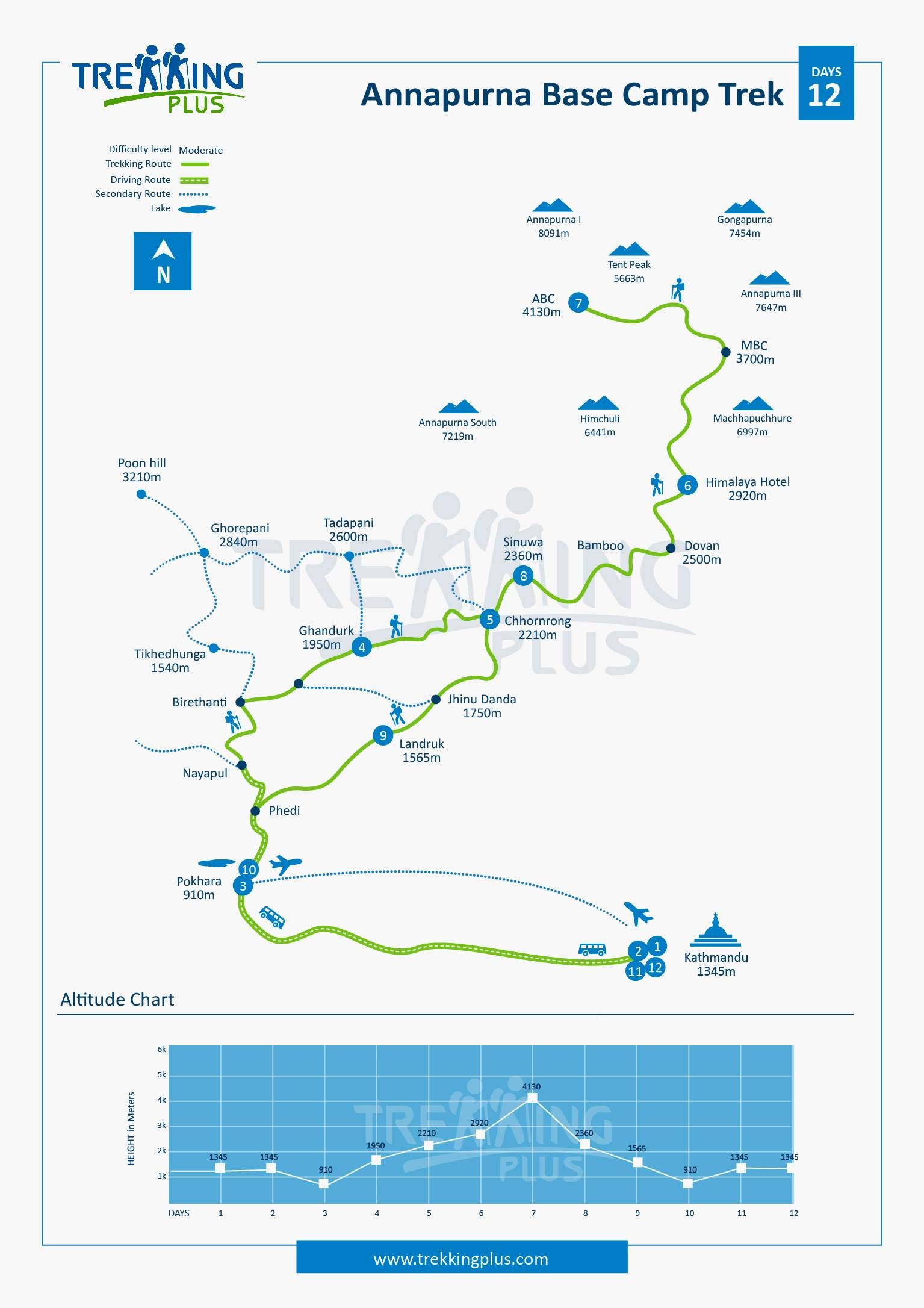 Highlights of Annapurna Region Trekking
The trekkers can enjoy the best views of Annapurna I (8,091m) – the 10th highest mountain in the world, Annapurna II, Annapurna III, Annapurna IV, Machhapuchhre, Dhaulagiri, Gangapurna, Tukuche, Nilgiri, Tilicho Peak, Manaslu and other sister peaks in Annapurna Region.
Thorang-La pass (5,415m), the highest point on the Annapurna Circuit although, is the most challenging section of the trek, it is one of the famous view point in the Annapurna region.
Tilicho Lake (side trip required), the lake situated at the highest altitude (4,919m) in the world and the Kali Gandaki Gorge or Andha Galchi (between the Dhulagiri and Annapurna), the deepest canyon in the world.
The Muktinath Temple, one of the most important shrines of both Hindus and Buddhists.
Natural Hot Spring at Tatopani to relax your tired muscles and therapy.
Poon Hill 3210 M is the best hill station to see the snow cape mountain and amazing sunrise Sunrise/sunset view.
Discover and Explore beautiful and interesting ethnic Gurung, Thakali and Magar settlements in Annapurna Region and experience the local culture and lifestyles.
A huge variety of landscapes from lush green paddy field, sub-tropical rainforest, deep valleys, alpine slopes to an arid Tibetan plateau and the deepest gorge in the world.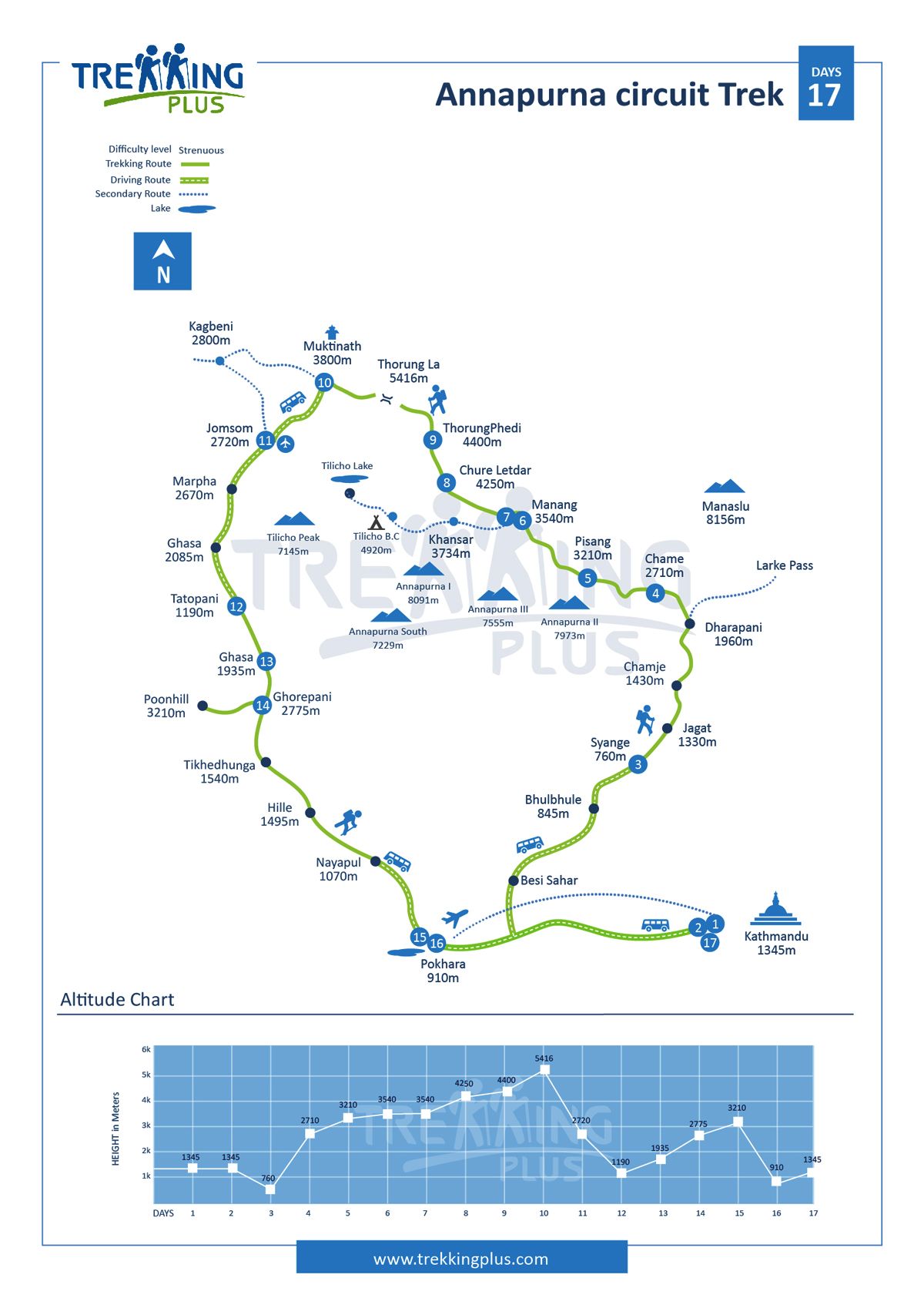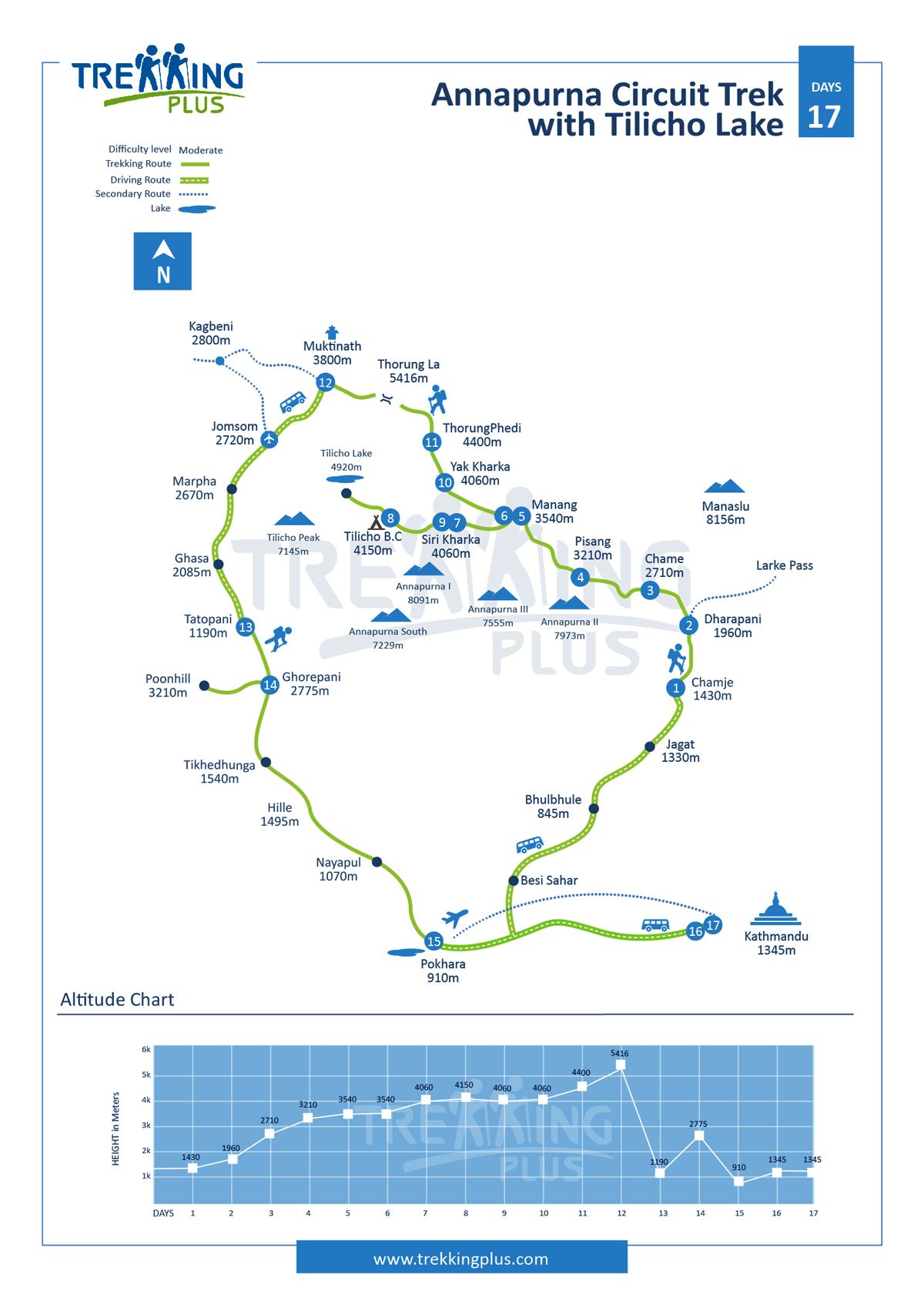 Best season to plan Trekking to Annapurna Region
We can plan Trek to Annapurna Region any time of the year. But if you are looking for the best seasons, then autumn (October-November/Mid December) and spring (February-April) are the two best seasons to plan Trek in Nepal.
October-November/mid-December, this is the best time to go trekking. Since its right after monsoon, the sky looks clear, the valleys are still green, the weather is very considerate and the views are simply spectacular along the route.
February-April, This is the second best time to go Trekking. Starting right after the dry and snowy season, the trails are now free from snow and supportive, the weather is fairly warm, blooming rhododendron and other flowers beautify the trail and the sun shines bright.
May- September, summer, quickly followed by monsoon is not considered the best time to go on Trekking but this season of the year is very hot and rainy. It is hard to see the clear view of mountain and the trails are muddy and slippery. In hilly reason sometimes even the landslides affect the trail.
December to Early February, This time of the year, the weather is very cold and dry. Heavy snowfall might sometime block the trail in high altitude such as Thorangla and Annapurna Base Camp. Therefore, this time of the year is also not that good time to go Trekking to Annapaurna Region.
Equipment Check list for Annapurna Region Trekking
In Annapurna region, most of the trekking is teahouse basis. We will be staying in local lodges and have meals at the local lodges. Therefore, the following packing list covers the things that you will need during the trek while you are on any trekking routes in Annapurna Region.
Trekking boot, some pairs socks, trouser (thermal and wind breaker), some pairs of T shirts, pull over, light flesh jacket, wind proof worm jacket, gloves, cap, sun hat, poncho or raincoat , sleeping bag (-20 recommended ) etc
Hand towel, soap, tooth brush, paste, face wash, toilet paper, wait tissue,
Headache, stomachache, pain killer, bandage, cotton, iodine, Diamox™ or Homeopathy coca 30
Chocolate, biscuit, chewing gum, etc
Camera battery, charger, flash light, lighter, sun cream, small book, day bag, bag cover, bag to give porter ( i will arrange this ) , sleeper, trekking pole, small knife and etc.
Water bottle to refill the boiled water from the lodges or iodine tablets to purify the water, rubbish bag to bring till the lodge or to the right place and etc.
Note: Regarding the sleeping bag, you can rent from kathmadu which would be an option incase if you do not want to carry it.
Permits required for the Annapurna Circuit trek
We normally need two different permits to go any trek in Annapurna Region. Annapurna Conservation Area Permit (ACAP) and Trekkers Information Management System (TIMS) card. These permits are required to enter the Annapurna Area. Permits will be checked at several checkpoints along the mount trails. These cards do not expire, which allows you to spend as much time as you want in the conservation area but it is only one time use. However, once you check out from the conservation area, you will need a new permit to re-enter the other trekking routes in Annapurna region.
If you are trekking on your own as a solo trekkers, without having any support crews or any Trekking local agencies in Nepal, then you can obtain these permits at the Nepal Tourism Board in Kathmandu or Pokhara, before your trek. However, if you are with any Trekking agency like Trekking Plus or Mount Trails than you do not have to worry about that. They will take care of all applicable trekking permits.
In order to apply for these Annapurna region permits, you need to provide a copy of your passport and 2 passport-size photographs. We can get the permit in one day.
TIMS Card
Free Individual travelers are required to obtain a Green TIMS card. It will cost Nepali currency equivalent to USD 20/person. Group trekkers or if you are going on trek with local trekking agencies than we obtain a Blue TIMS card which will cost about equivalent to USD 10/person.
ACAP
All trekkers are required to obtain individual Entry Permits to enter Annapurna Conservation Area (ACA). For SAARC Nationals it will cost Nepali rupees 1,000. For other Nationals (other than SAARC countries), it will cost Nepali Rupees 3,000. For more details Please Visit NTNC website: https://www.ntnc.org.np/trekking-annapurna-gaurishankar-and-manaslu-information-and-entry-permit-forms
Accommodation Options
There are plenty of tea houses, guest houses or Local Mountain lodges along the trekking routes in Annapurna Region. Accommodations are very basis compare to city accommodation. More higher we go more basic accommodation. Rooms are usually on a twin share basis with very basic room amenities. Carrying your own sleeping bag is recommended. Attached bathrooms are rarely available. Most of the accommodations operate on solar power for the hot shower. At higher elevations, where there is no facility of hot shower you can get a bucket of hot water for an extra charge. At lower elevation you can enjoy paid WIFI service; however, at higher elevation even charging electronics requires extra money.
Food Options
Typical Nepalese meal (Rice, Dal, Curry, Pickle, Salads) is available along the trekking routs in Annapurna Region trekking. This combination of Nepalese meal is healthy, fresh and rich in calories, which make it the best choice during the trek. However, some tea houses also provide options like Chow mien, pasta, pancakes, Chopsuey and other western meal options that you can choose from the teahouse menu. Beverages such as bottle of water, beer, soda, tea/coffee, and hot lemon are also available throughout the trail, but the prices are little more with the increment in altitude. Bringing water bottle and energy boosters like, chocolate bar, energy bars, cheese, peanuts are better than buying it along the trail and it's cheaper to bring from city.
How difficult is it to trek around the Annapurna?
Well, there are few different options trekking in Annapurna Region. Annapurna Circuit is fairly challenging trek, Annapurna Base Camp is moderate trek and other short days hiking or trekking in Annapurna regions are easy.
But any physically fit person can easily complete any trekking in Annapurna Region. You also need to be prepared for several tiring ascend and descend and walking on snow and ice trail (during the winter) if you are heading high altitude trekking in Annapurna Region. Nevertheless, the most difficult section of this trekking is Thorung La pass of Annapurna circuit trek.
In order to prepare your body for trekking in Annapurna, the first thing you need to do is get a health check ,exercises and pre training to get yourself ready for the trip. While exercising, focus on the cardio and muscle strengthening exercises. Start exercising at least 4-6 weeks before the trek , eat healthy and get ready with positive attitude.
Travel Insurance
You need to have a travel insurance to do any trekking in Nepal. Make sure that your travel insurance should cover every extra expenditure that might occur as a result of various injuries, health issues, or accidents when you are on trek. It should also cover the cost of helicopter rescue, doctor's fees, treatment cost, hospital charges and transportation. Additionally, the policy should cover the cost of all extra activities that you will be undertaking in Nepal, which is not mentioned in the package as well as the cost of theft and liability, cancellation and misplaced luggage.
Trekking Maps
If you are with any agency in Nepal, they will provide map as a complementary gift from the company, however, if you are a free individual traveler, make sure to purchase a map before in map house shop in thamel.
Transportation or flight
Most of the trekking to Annapurna Region starts from Pokhara but Annapurna Circuit trekking starts from Besisahar and ends at Nayapul. We take tourist bus or charter private car (cost depends on transport types ) to pokhara from Kathmandu which will cost about 1000 by tourist us. Local bus will be comparatively cheaper than charter/ tourist bus. We can flight from Kathmandu to Pokhara in short time (about 25 min ).
Are you ready for Annapurna Trek?
If you are looking for a hassle-free any trek to Annapurna Region, it's always a good idea to take the help from Local Trekking Companies. Trekking Plus has been the leader in the Himalayas for more than 10 years. Trekking Plus and local expert's team are very friendly who is totally focused on service excellence and dedicated services to the customers. For more information, you can visit www.TrekkingPlus.com or Contact Us .