Everest Region is the most popular trekking destination in Nepal. Everest Region Trekking is a difficult region of Nepal to access on foot compared to other trekking regions in Nepal. Everest region trekking start from lukla which is fourty five minutes flight from Kathmandu. Lukla is small air strip sits on an angled runway at 2,860m/ 9,383 ft. Weather your destination is Everest base Camp Trekking , Gokyo Valley Trekking, Gokyo Valley Chola Pass Trek , Everest Panoramic Trekking and many more. Everest region is famous for hosting the highest mountain in the world including Mount Everest sitting at 8,848m/ 29,035 ft. This region is not only one of the most visually stunning regions on earth such as the sherpa people, villages, stupas and monasteries. Massive mountains will all keep you wanting to come back again and again to further explore this beautiful area of Everest Region.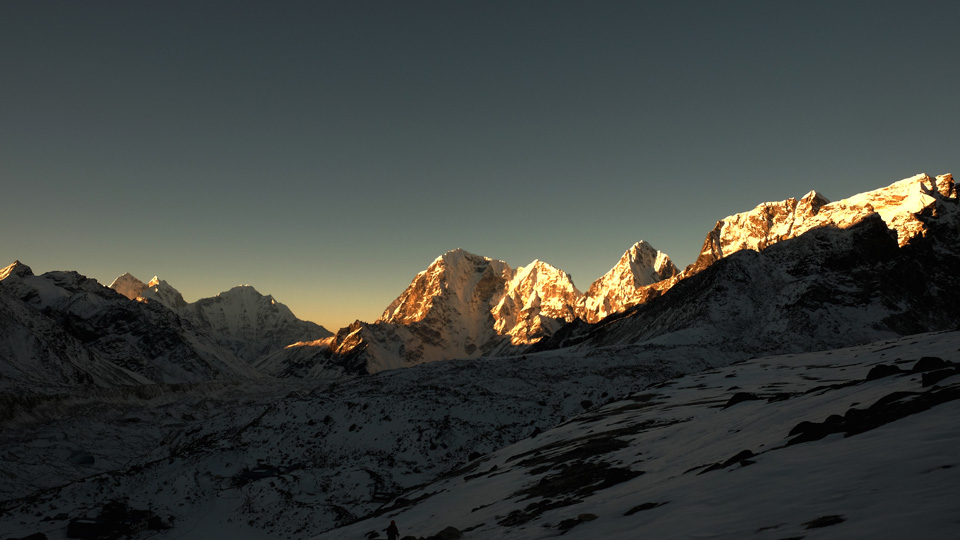 You will get to witness the world's highest peak, Everest (8,848m) which is also known as 'Sagarmatha' and several other mountains over 8000m, like- Lhotse, Cho Oyu and Makalu. Apart from the snow-white mountains, you will also notice the mountain ecosystem, superb geographical part of Solukhumbu, meet with friendly Sherpa people, and observe wide varieties of plants and animal life in the Sagarmatha National Park. The major attractions of Everest Region trekkig are exploring Sherpa Museum, knowing Sherpa Culture and their way of life in Khumjung Village, scenic turquoise Gokyo Lake, Cross Chola Pass (5300m), Kangma La(5500m), and Renjo -La(5400), Khumbu Ice Fall from Everest Base Camp, visit Tengboche Monastery and many more.
One of the most popular trekking alternatives in Everest region is Everest Base Camp Trek which lies at an altitude of 5360m and takes you the base of the tallest mountain on the earth Mount Everest. Moreover, wonderful peak views of Pumori (7,145m), Lingtren (6,697m), Khumbutse (6,623m), etc will greet us as we trek to Kalapathhar lying at the altitude of 5550m from the base camp.
Highlights
Experience the highest national park in the world
Experience Scenic Mountain flight over the Himalayas (Kathmandu- Lukla- Kathmandu)
Explore Sherpa villages, culture and lifestyle, old monasteries, prayers flags, Prayer wheels
Mountain view (Mount Everest, Pumori, Ama Dablam, Lhotse, Nuptse), thrilling view of glacier (Khumbu), sensational trekking trails, high suspension bridges, unexposed flora and fauna en-route
Panoramic view of sunrise and sunset at the world's highest peak Mount Everest(8848 m) from Kalapathar (5555 m).
Everest Base Camp Trekking Difficulty
Flying into Lukla takes you immediately to an elevation of 2,845 m (9,334 ft) so you will start off the hike feeling the effects of altitude. Even though it is a gradual elevation gain over several days, the trek difficult because there are several days of trekking above 4000 meters. (12,000 feet) to Everest Base Camp Trekking. Durring Everest Base Camp Trekking, there is a total elevation gain of 5545 meters kalapather and Mt Everest Base Camp 5,380 m (17,600 ft).We recommend being in good shape with some altitude experience before trekking to Everest Base Camp. It's good to know how your body reacts to that height alevation.
Everest Base Camp Trekking Map

Suggested Itinerary of Everest Base Camp Trek Details Itinerary
Best Time to Trek Everest Base Camp Trekking
There are two major seasons for trekking to Everest Base Camp. The best months to trek Everest Base Camp are in the pre-monsoon season through March, April and May or in the post monsson season from mid September, October and November.
Pre Monsoon ( February- May )
During these months the weather is stable and dry which is good for trekking to Everest Base Camp and other routes in everest region. There are still snow in on the track. Landscapes and mountain views are spectacular but trekking can be little harder over 4000 Meters as well as cold. April gets busy becasue its mid month of spring season.
Post Monsoon ( Mid September-Late November )
During these months its less haze and less cloudy. Its one of the best season to trek Everest Base Camp Trekking. Normally we can see the better views of spectacular mountains and landscapes. Autumn is the great time to trek around Everest Region. October is the mid month of autumn season, it will be busy with packed teahouses.
December to February, It is still possible to trek Everest Base Camp but very Cold up in the Himalayas. Temperature drop down to -25 C at night and lot of snow falls on the trail. High passes might be closed beause of heavy snow fall. If you are looking for avoiding the crowds and do trek, beginning of Spring season and end of autumn seasaon is highly recommended.
Equipment Check list for Everest Base Camp Trekking
In Everest Region, most of the trekking is teahouse basis. We will be staying in local lodges and have meals at the local lodges. Therefore, the following packing list covers the things that you will need during the trek while you are on any trekking routes in Everest Region.
Trekking boot, some pairs socks, trouser (thermal and wind breaker), some pairs of T shirts, pull over, light flesh jacket, wind proof worm jacket, gloves, cap, sun hat, poncho or raincoat , sleeping bag (-20 recommended ) etc
Hand towel, soap, tooth brush, paste, face wash, toilet paper, wait tissue,
Headache, stomachache, pain killer, bandage, cotton, iodine, Diamox™ or Homeopathy coca 30
Chocolate, biscuit, chewing gum, etc
Camera battery, charger, flash light, lighter, sun cream, small book, day bag, bag cover, bag to give porter ( i will arrange this ) , sleeper, trekking pole, small knife and etc.
Water bottle to refill the boiled water from the lodges or iodine tablets to purify the water, rubbish bag to bring till the lodge or to the right place and etc.
Note - Regarding the sleeping bag, you can rent from kathmadu which would be an option incase if you do not want to carry it.
Permits required for the Everest Base Camp Trekking
You will need a Trekkers Information Management System card (TIMS) as well as a Sagarmatha National Park Entry Permit. Tour operators will include both in their price and will obtain them for you beforehand. If you plan to trek independently, however, you will need $20 for the TIMS card and roughly $30 for the Sagarmatha National Park entry permit.
Make sure you bring at least four passport sized photos to make applicalbe permits for Everest Base Camp Trekking or any trek in Everest Region.
Travel Insurance
You need to have a travel insurance to do any Everest Trekking in Nepal. Make sure that your travel insurance should cover every extra expenditure that might occur as a result of various injuries, health issues, or accidents when you are on trek. It should also cover the cost of helicopter rescue, doctor's fees, treatment cost, hospital charges and transportation. Additionally, the policy should cover the cost of all extra activities that you will be undertaking in Nepal, which is not mentioned in the package as well as the cost of theft and liability, cancellation and misplaced luggage.
Are you ready for Everest Base Camp Trek?
If you are looking for a hassle-free any trek in Everest Region including Everest Base Camp, it's always a good idea to take the help from Local Trekking Companies. Trekking Plus has been the leader in the Himalayas for more than 10 years. Trekking Plus and local expert's team are very friendly who is totally focused on service excellence and dedicated services to the customers. For more information, you can visit www.TrekkingPlus.com or Contact Us .