Bandipur situated on a top of the charming hill and famous for its natural beauty, authentic local houses nestled in the Himalayan foothills of Nepal. We can see the panoramic mountain views of the Annapurna ranges, Dhaulagiri, Manaslu and LangtangHimal. We get chance to observe Newari (Local tribes) culture and lifestyles, visit beautiful and natural caves, amazing landscapes and wonderful architecture. If you are looking for real nepal experience bandipur would be the best choice and must visit place in Nepal. We explore authentic village and its pure and natural surrounding and life style.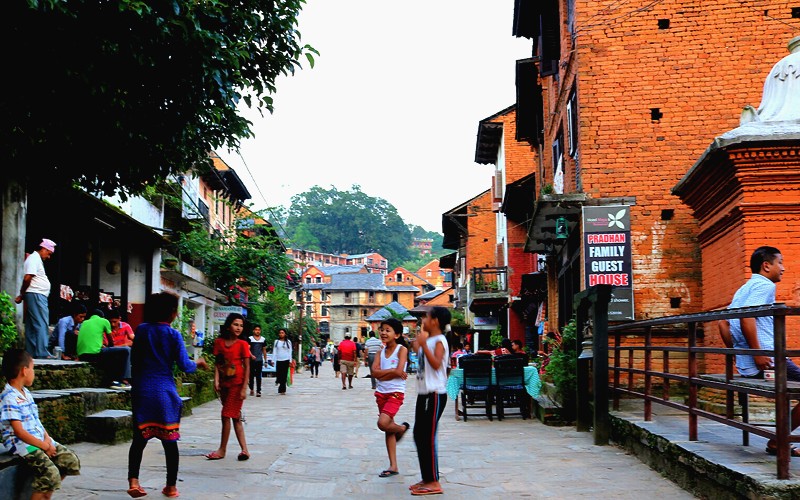 How to Reach Bandipur
Bandipur is aobut 143kms to the west from Kathmandu and around 80kms to the east from Pokhara. We drive through scenic highway towards Dumreapprox. 4 hours from Kathmandu and about 2 hours from pokhara. Upon we arrive in Dumre we change a local bus or shared jeep to Bundipurhill station (8 km , about 30-40 minutes' drive). If you are taking a private car than we can drive all the way to Bandipur directly which would be more convenient.
Reaching Bandipur from Kathmandu
We take regular tourist buses from Kathmandu which departure from Kathmandu at 7am. It takes around 4 hours to get to Dumre from Kathmandu. we get Tourist buses from tourist bus station in kathmandu. From Dumre, its 8kms to Bandipur. You can either hike for almost 3 hours to get to Bandipur from old hike route. Or take Taxi which will cost you about NRS 600 from Dumre bazaar to Bandpur.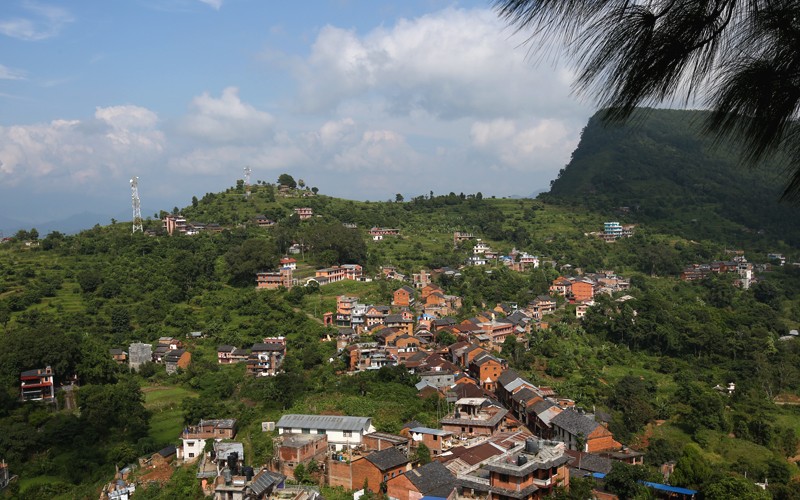 Reaching Bandipur from Pokhara
We take regular tourist buses from pokhar to Kathmandu and get off at Dumre, change local bus or chartered taxi to Bandpur or we can take local buses that head to Chitwan or Kathmandu to get to Dumre. It's almost about 2 hrs journey from Pokhara to Dumre. Tourist buses leave from tourist bus station and we can catch local bus from Pithvi Chowk in Pokhara. From Dumre, its 8kms to Bandipur. You can either hike for almost 3 hours to get to Bandipur or take Taxis which will cost you about NRS 600 from Dumre bazaar to Bandpur.
Things to do in Bandipur and places to visit around Bandipur
Sightseeing around Bandipur
Khadga Devi temple
Bindhabasini Temple
Chandithan
Mahalaxmi Temple
Narayan Temple
PaharpaniMahadev
Padma Library

View point
Tundikhel
Tundikhel is an excellent vantage point situated to the north of Bandipur's main bazaar. From here, we can see the magnificent Himalayan Range including the spectacular peaks of Dhaulagiri, Machhapuchhre, Langtang, Manaslu and Ganesh Himal and other peacks too. Beautiful hills and ricefield green valley (Marsyangdi Valley, Bimalnagar and Dumre) can been seen as wll as Gorkha Palace and the famous Manakamana hill.
PuranoKot (Gurungche Hill)
PuranoKot, originally a fort, lies at a distance of about 500 m to the west of the main bazaar. It takes about twenty minutes of easy walking over the stones to reach the top. There is a small temple nearby containing a number of old statues. Next to the temple stands a newly built temple of Thanithan Mai. The local people believe that praying to Mahadev at this spot during a drought will bring rain.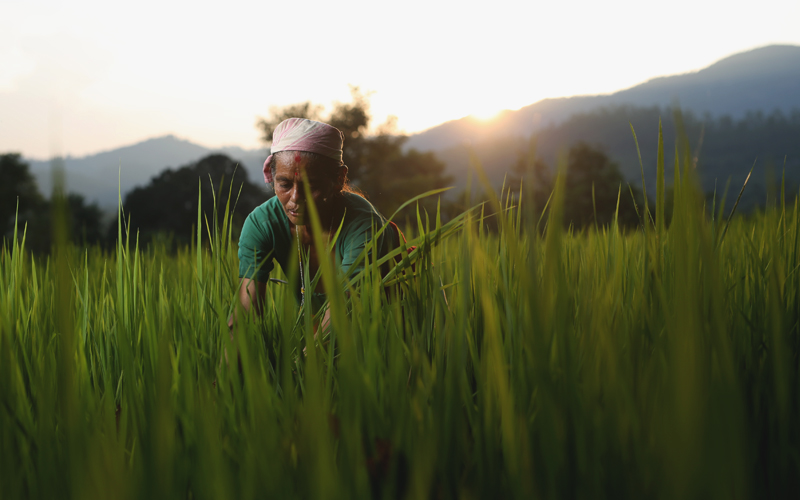 Gadhi
This ancient fort lies to the northeast of Bandipur and is believed to have existed from the time of Mukunda Sen. Since the spot lies at a higher elevation than the bazaar; you can get a stunning view of the mountains from here and its the best spot to see the sunset and sunrise. We can see 180 digree panoramic mountain and valley view from Gadhi.
Discover Authentic Villages around Bandipur
Ramkot village
Ramkot village is a two-hour walk to the west of Bandipur. It is an easy hike passing through Muchuk Village from where you can also visit Mukundeswari. Ramkot is a typical Magar village where we can experice unique homestay with local people and know the culture and lifestyles of local peoples around magar villages Ramkot is untouched by modern development and offers an opportunity to experience the lifestyle of rural Nepal. From here, one can go on to ChabdiBarahi, which can be reached after two hours of easy hiking.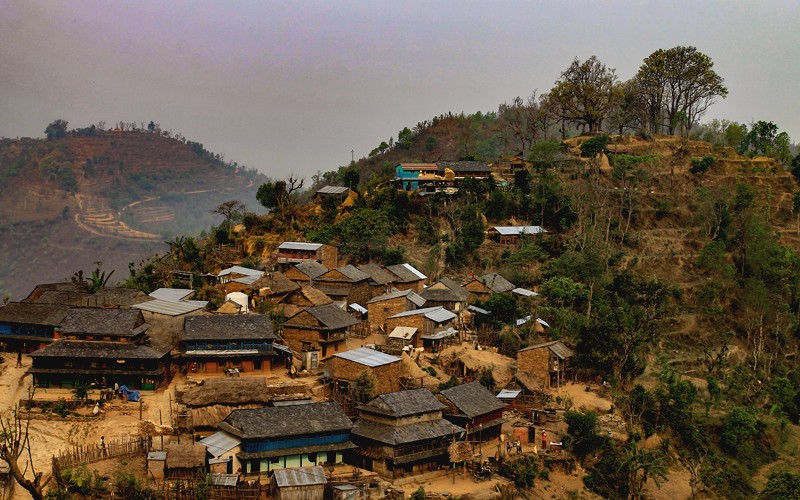 Mukundeswari and Muchuk Village
Mukundeswari lies at an altitude of 1,830 m. It is about a two-hour walk to the west of Bandipur. The place looks like a gallery of ancient weapons and other antiquities as swords of different shapes and sizes lie scattered all around. its about 1 hour hike from Muchuk village. There is big festival celebaration one a year which would be the best time to visit there
Discover Caves and other sightseeing spots
Siddha Cave
Bandipur amazes visitors with its geology as much as with its scenic and cultural attractions, and it would be unthinkable not to visit its caves. The must-see destination here is Sidhha Cave, discovered only in 1987. It is said to be the largest cave not only in the kingdom but also on the South Asian subcontinent. Sightseers can check for themselves by exploring its inner recesses which are filled with natural artworks created by the stalactites and stalagmites here. Siddha Cave is situated just above the cliff of Bimalnagar, from where it is a thirty-minute climb. The cave can be reached from Bandipur after ninety minutes of easy walking. Patalidwar This cave also goes by the name of Gateway to Heaven. It is believed that anyone entering the cave will cause all the sins of their ancestors to be washed away and bring them salvation. The way to this cave is through a jungle and takes about two hours from Siddha Cave. A religious fair is held here in April when participants perform the Chutka dance.
TandrangTundrung
TandrangTundrung is a fifteen-minute walk to the west of Bandipur Bazaar. Its unusual name is said to imitate the sound that is produced when a stone is thrown into the well here. According to the old-timers of the village, it was used by Mukunda Sen to pass between Mukendeswari and TandrangTundrung to perform religious deeds.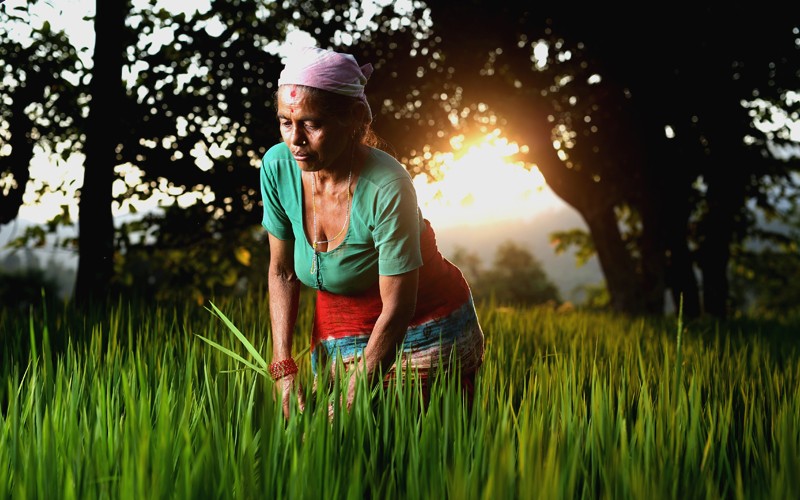 Teendhara
This place lies to the east of the main bazaar and can be reached in ten to twenty minutes. The name of this place means three water spouts. Two fountains were added later. A shrine dedicated to Lord Shiva lies nearby.
Raniban
This is a forest of Sal trees located to the east of the main bazaar. Nature enthusiasts will enjoy visiting the spot for its greenery and tranquility.
Silk worm Factory visit
There's a silk production facility in Bandipur where they grow silk worms and extract silk threads.
Goat Farm
There's a goat farm nearby where you can see the Nepali way of farming goats. Try the goat milk.
Eat local and be local
As Bandipur is a Newari town, it offers plethora of options for foodies. Newari cuisine is rich in beans, beaten rice and Buff meat. Get a Newari thali. Try SamayBaji, Kachila (raw marinated buff meat), Choila (roasted buff meat) and Tho (rice beer).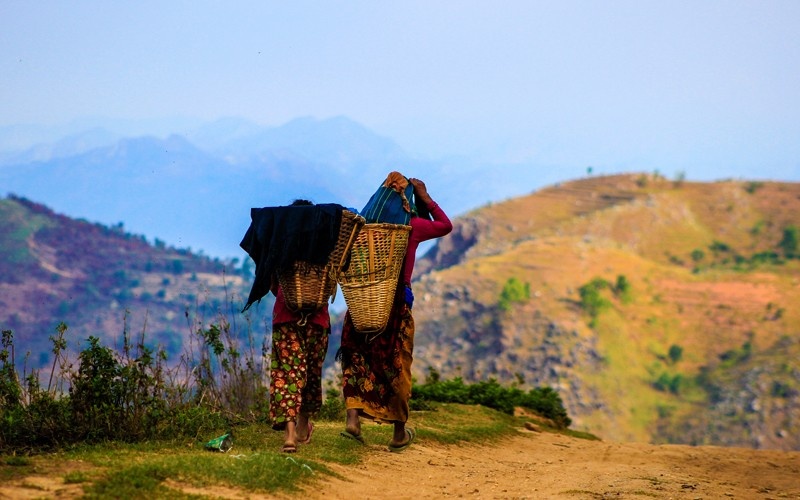 Festival in Bandipur
In Bandpur we can clebration local festival throughout the year. Every Jatra ends with Bhoj (feast) where they serve traditional Newari food. These jatras and bhoj are culturally mesmerizing and portray the Newari way of life and their culture. Ask a local for the time and place and they will be happy to invite you in local house and you simply can see the festival celebration around old bazaar areas.
Do you want to Book BandipurHomestay Tour?
If you are looking for authentic homestay tour in Nepal, please visit Trekking Plus Authentic Homestay tour packages or for any further assistance please feel free to write us at [email protected]