Experience Nepal like a local in the warm heart of Nepal, on a terraced hillside
Riepe Village is an authentic village let you to observe the local life and raditional, interact with local people and with your hosts, immerse in their culture and daily lifestyales, learn the local Nepali language, participate in the agricultural lifestyle, and observe the local festival. In the warm heart of Nepal, on a terraced hillside, where the Marsyangdi meanders below and where the views of the high Himalaya are utterly spectacular, there is a small cluster of farms that forms a beguiling village. Here the almost forgotten simplicities of yesteryear are being revitalised. And here, awaiting the genuinely responsible eco traveller is Riepe, a small rural community quietly focussing on the future.
Nature has blessed these Himalayan foothills, life has been wholesome and good and generations have lived here in harmony. Yet, elsewhere in the region, the children of highland folk are migrating and many villages are already emptying, houses and small-holdings stand eerily vacant, causing the tenor of the ancient ways to falter. But not so in Riepe. This village really stands out for awesome views of Manaslu and the Annapurnas, for the pure freshness of the air and the wonderful bounty of nature here at 1,250m, for the charming homes linked by ancient pathways, and, not least, for simple, genuine hospitality.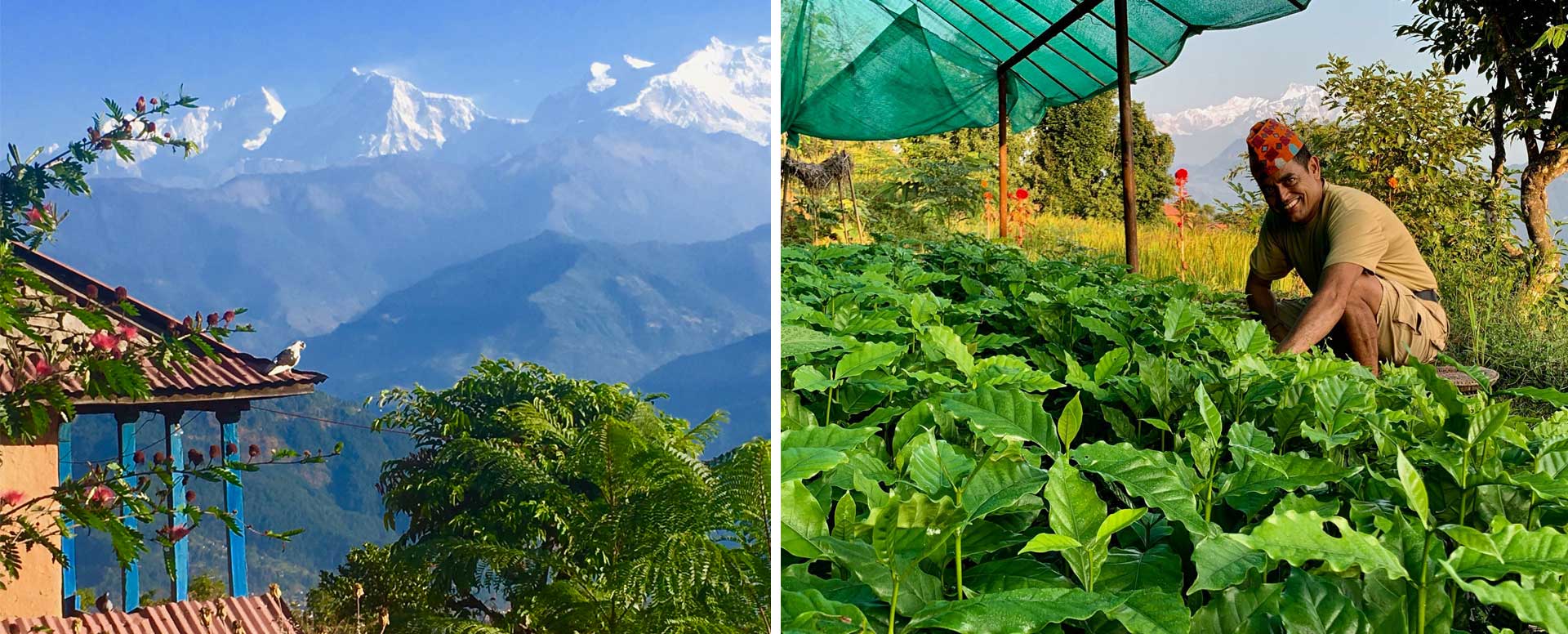 The village of Riepe is spoken of as growing the future by reclaiming the essence of the past. Now in year four, Riepe's coffee and avocado projects combine with more traditional produce to form a patchwork of niche agricultural enterprises. At the same time, Riepe has a growing reputation for extending a very warm welcome to visitors; for this place of great natural beauty is also so comfortable and relaxing. The eight guest rooms are really charming and all are aligned for the best mountain views. And each one has up-to-date en suite facilities.
Riepe suits both the active and the idle hikes along the east-west ridge, the stunning views from idyllic spots created by nature for yoga and pilates, or just that book-to-finish, and the simplicity of just being here.
Reaching Riepe village from Kathmandu, Pokhar, Bandipur and Chitwan
Riepe village lies north of the Kathmandu-Pokhara highway, off the road between Dumre and Besisahar en route to Manang and the start of the Annapurna Circuit. There are bus services from Kathmandu, Pokhara, Chitwan, Dumre or Bandipur, with a final off-road extension from Kalimati that climbs up to Riepe. So, having now heard of Riepe, there is a simple choice – you can either start making plans to go and visit, or, you can wish you had.
Riepe, with its very different culture, style and ambiance, has yet to really reveal itself to the World. Indeed there is no great rush to do that; instead, the villagers envisage a gradual transformation and this patient approach assimilates some of the necessary mores of the outside world while retaining tradition and the engaging absence of sophistication.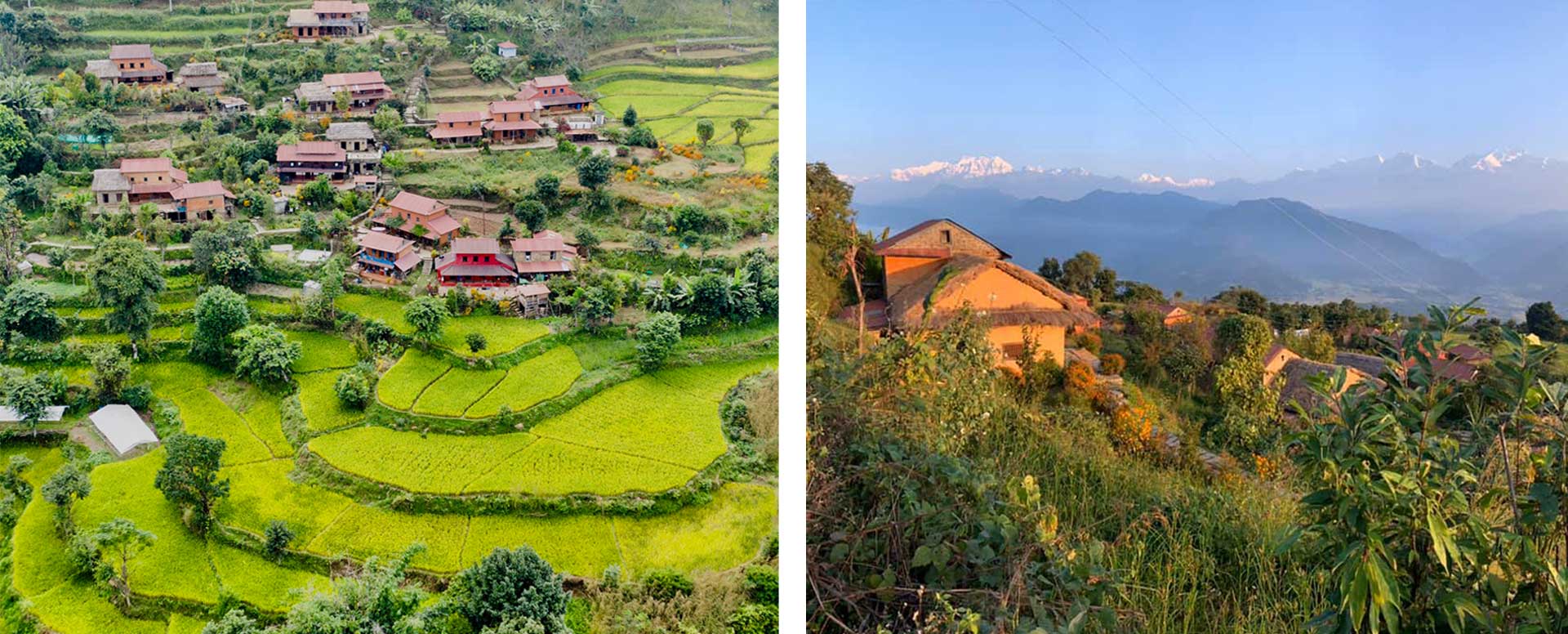 What we can do in Riepe Vilage ?
Riepe is better known for doing nothing than being busy so come prepared to relax utterly in peaceful countryside. However, yoga and pilates groups, photographers, artists, mountain bikers and hikers and bird watchers have all been spotted here.
Getting Riepe village from Kalimati ( Besisahar Road )
Riepe lies at the end of a steep dirt track. Four-wheel drive is often required from Kalimati. Or the walk up takes 1.5 hours. This track starts at Kalimati, which is 20 kms along the Besisahar road from Dumre, which lies on the Prithvi Highway, 135 kms from Kathmandu and 65 kms from Pokhara. Public transport is cheap and plentiful and private transport can be hired.Contacts here for private transportation to Riepe Village.
Where to stay in Riepe Village ?
Riepe village has eight traditional houses with new or refurbished additional guest rooms. Each one belongs to and is serviced by a village couple. All have attached bathroom/WC/hot showers etc. Double, Twin or Single beds are available. Most guest rooms comfortably accommodate a couple with a child in a separate bed.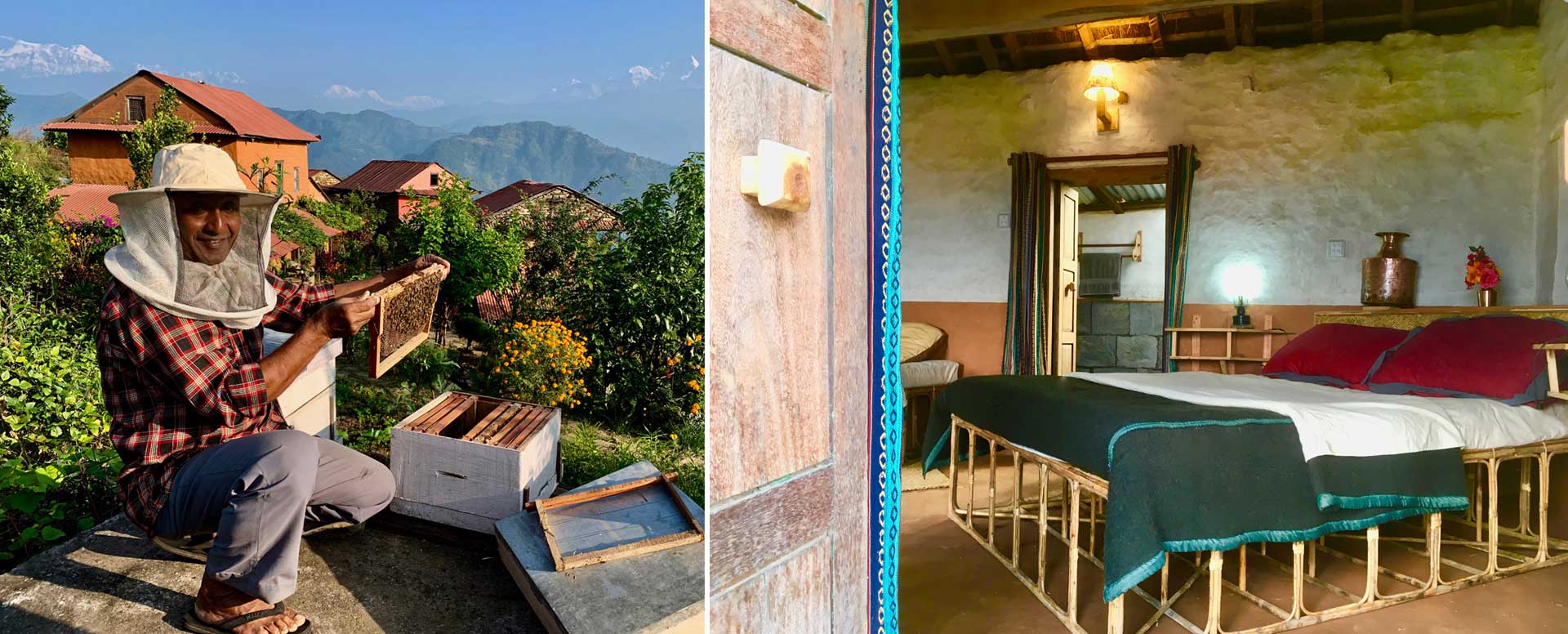 What you will be serived during your stay in Riepe Village ?
Much produce is home grown. Traditional Nepali and other meals are enjoyed with fellow guests, alfresco or in a timbered dining room.
What will be the cost for Riepe village Homestay Package ?
Can be found on Riepe Vilage Homestay Tour 3 Nights 4 Days
Whom to inquiry ?
Inquiry or book Riepe Village Homestay tour from Hotel Yala Peak or Trekking Plus