Highlights of Everest Base Camp 12 Days Trek
Experience sherpa culture and lifestyles
spectacular views of mountains inclulding Mt. Everest.
Everest Base Camp through Khumbu Valley of Nepal and all the way to top of the Kalapatter 5545 M.
Enjoy mountain local accommodation ( comfortable lodges) handpicked by our local guides
A chance to witness the rich and diverse flora and fauna of the Sagarmatha National Park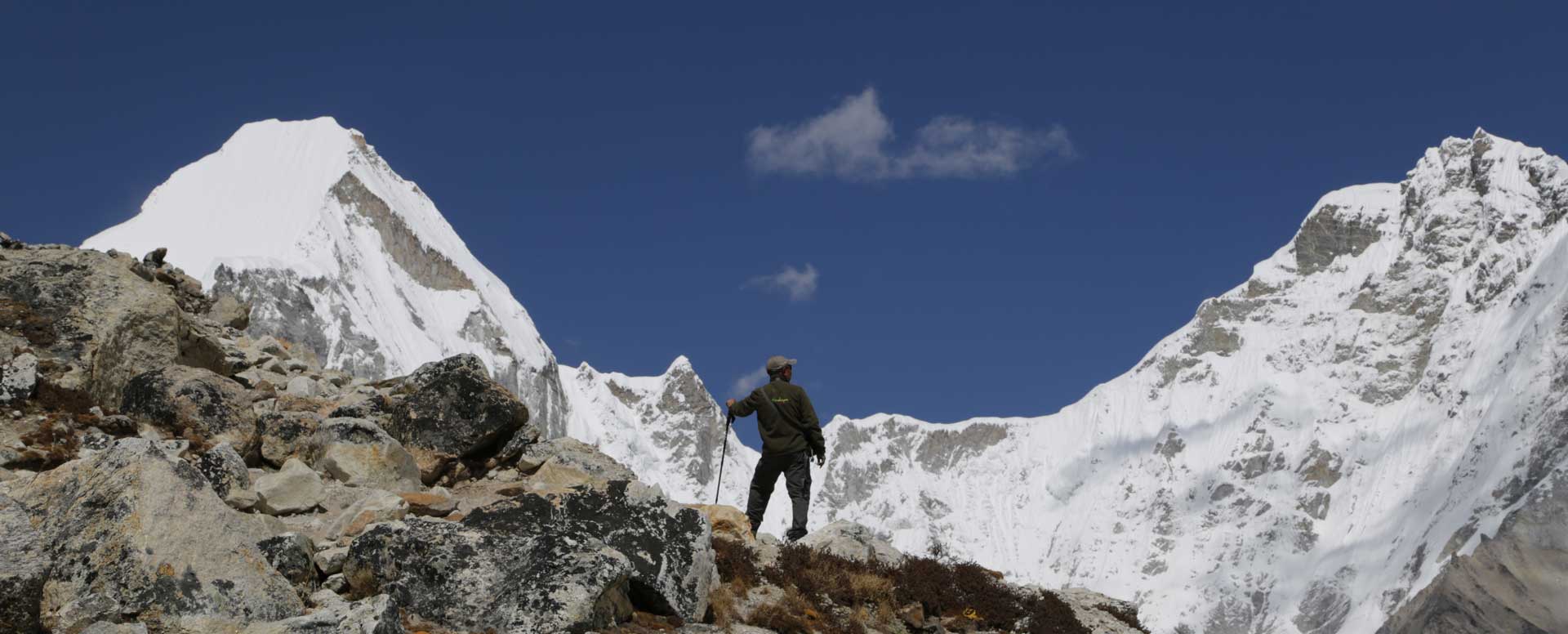 Everest Base Camp and Kala Patthar trek is an epic an exhilarating adventure journeys that takes you to highest points on earth. This trek rewards you with a beautiful trail along an ancient trade route to Tibet, used for generations by the locals. It follows a trail which includes prayer wheels, monasteries, and ancient stupas. At Kala Pattar 5545 M, you will witness the spectacular view of Everest as it literally turns golden in the evening sunlight and in the early morning.
Everest Base Camp trek 12 days from kathmandu to kathmandu 2 more additional days in kathmandu is the best way to do this trek. It follows the professional acclimatization schedule for a safe and leisure trek to Everest Base Camp Trek. The right acclimatization schedule helps to reduce the chance of altitude sickness. It gives your body time to adjust to the changing attitudes of the Everest Base Camp Trek. During the Everest Base Camp12 Days trek, you can trek at your own pace. You can also enjoy the natural scenery and the high himalaya trekking experience in Nepal.
Outline Itinerary of 12 Days Everest Base Camp Trek
Day 01: Flight from KTM flight to Lukla 35 minute flight and trekking to Phakding (2652m)
Day 02: Trek to Namche Bazzar (3440m)
Day 03: Acclimatization day in Namche
Day 04: Trek to Tengboche (3867m)
Day 05: Trek to Dingboche (4360m)
Day 06: Rest day in Dingboche for the acclimatization (4360m)
Day 07: Dingboche Trekking to Lobuche (4940m)
Day 08: Lobuche to Gorakshep (5170 m), trekking to Everest Base camp (5364m) back to Gorak shep (5170m)
Day 09: Hike to Kala Patthar (5545m) and trek back to Pheriche (4280 m)
Day 10: Pheriche Trekking to Namche Bazaar via Pangboche and Tengboche (3867m)
Day 11: Namche Bazaar trekking back to Lukla (2850m)
Day 12: Flight from Lukla to Kathmandu
Outline Itinerary of 14 Days Everest Base Camp Trek
Day 01: Arrive Kathmandu (1,300m/4,2) – Lukla(2,845m/9,333ft) and trek to Phakding (2,610m /8,562ft); 35 minutes airstrip and 8km, 3-4hrs.
Day 03: Phakding(2610m/8562ft) - Namche Bazaar (3,440 m/11,285ft); 11km, 6-7hrs.
Day 04: Namche Bazaar: Acclimatization and exploration day
Day 05: Namche Bazzar(3440m/11285ft) - Tengboche (3,870m/12,696ft); 9km, 6-7hrs.
Day 06: Tengboche(3870m/12696ft) - Dingboche (4,410 m/14,467 ft): 8km, 5-6hrs.
Day 07: Dingboche: Acclimatization and exploration day
Day 08: Dingboche(4410m/14467ft) – Lobuche (4,910 /16,108ft): 7km, 5-6hrs.
Day 09: Lobuche(4910m/16,108ft) - Gorak Shep (5,160 m/16928ft) - Everest Base Camp (5,364 m/17,597 ft) Gorak Shep: 14km, 8-9hrs.
Day 10: Gorak Shep(5160m/16928ft) - Kala Patthar (5,550 m/18,207 ft) - Pheriche (4,230 m/13877 ft); 15km, 7-8hrs.
Day 11: Pherich(4230m/11877ft) – Namche Bazaar (3,440 m/11,285ft); 17km, 8-9hrs.
Day 12: Namche Bazaar(3440m/11285ft) – Lukla (2,845m/9333ft); 19km, 8-9hrs.
Day 13: Lukla(2845m/9333ft) – Kathmandu (1,300m/4,265ft)~ 35 min flight
Day 14: Final Trek departure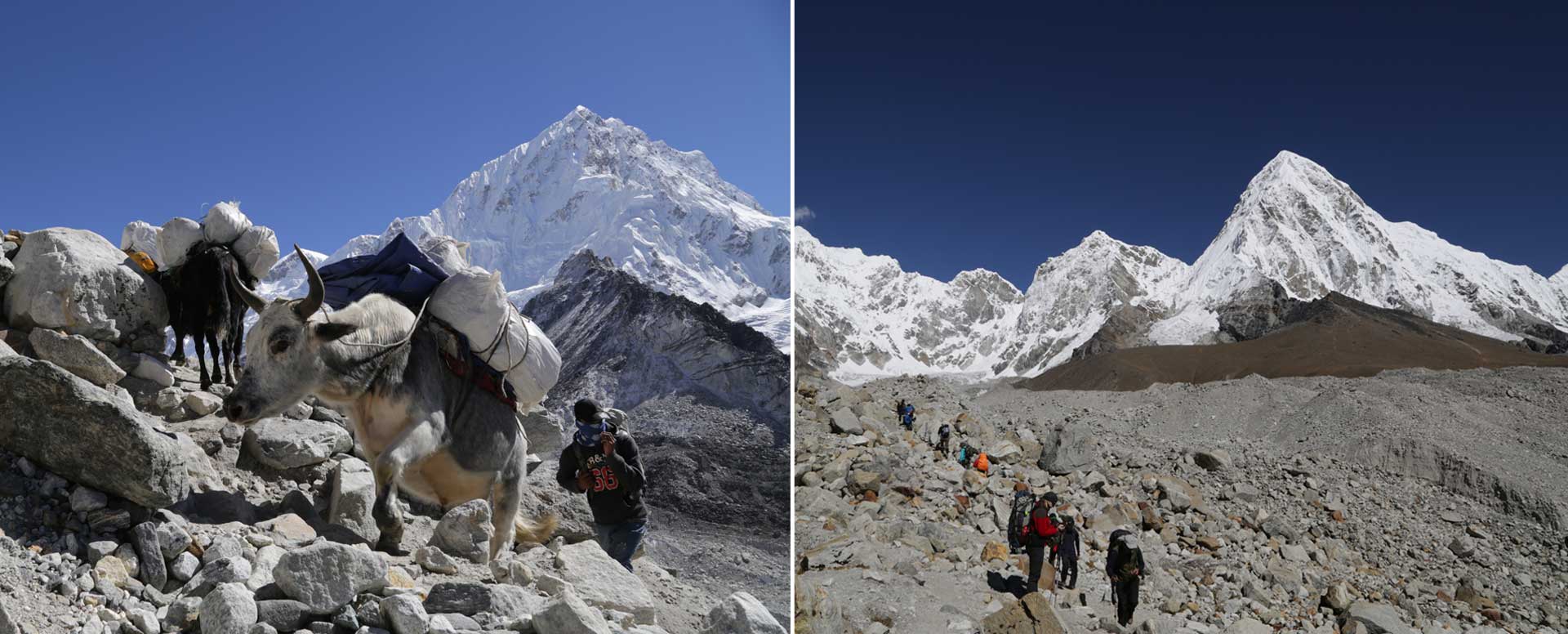 What we will do?
We start our day around 7:30 -8 a.m after having breakfast (porridge/muesli/cornflakes/Tibetan bread/egg with tea or coffee is served for breakfast). Your packaged duffel bags will be carried by our support crews. All you need to carry in your day-pack and a water bottle, rain/wind jacket, camera and other small items you may need on the trail. All trekkers walk at their own pace accompanied by the trekking guide. With larger groups there will be a trekking leader, Sherpa and other support staffs. After about 3-4 hrs walks, we stop on the way for a simple hot lunch.
After lunch, we hike about 3 hours than we get to the local mountain lodge. We usually reach the next cap between 3-4 p.m. In the late afternoon and evening you can relax, meditate and read or take a walk around to get refresh. The evening meal is served between 6 -7 p.m. in the dining room of local lodge.
After dinner the guide will brief us on the next day's hike regarding difficulties, route and safety. Each day's hike is planned so that we will have more time to see around, photograph and explore the countryside. Anyone who is healthy and fit enjoys the hiking will qualify to participate trekking in Nepal.
Trekking guide and support crews
You can also trek Everest Base Camp 12 days trek on services basis (hire guides and porter). You can your expenses by your own along the trek. Trekking Company (Trekking Plus) can organize by providing guide only. If you think of managing all the necessary things like permit and necessary papers, then only the guide is enough for trekking in Nepal Himalaya. Recommend to hire many years of experience and as well as educated guide
Trekking Plus trekking guide is a highly experienced/ government certified mountain guide who will lead the trek. While you are on a trek, your Nepali guides and porters will ensure that you are well looked after. The guide is in overall charge and takes responsibility to organize the trek en route and manage to deal with the local people and porters. Interacting with your guides is also a fun and informative way to gain local insights and you can pick up a bit of language and others skills that can make your trek much more enjoyable.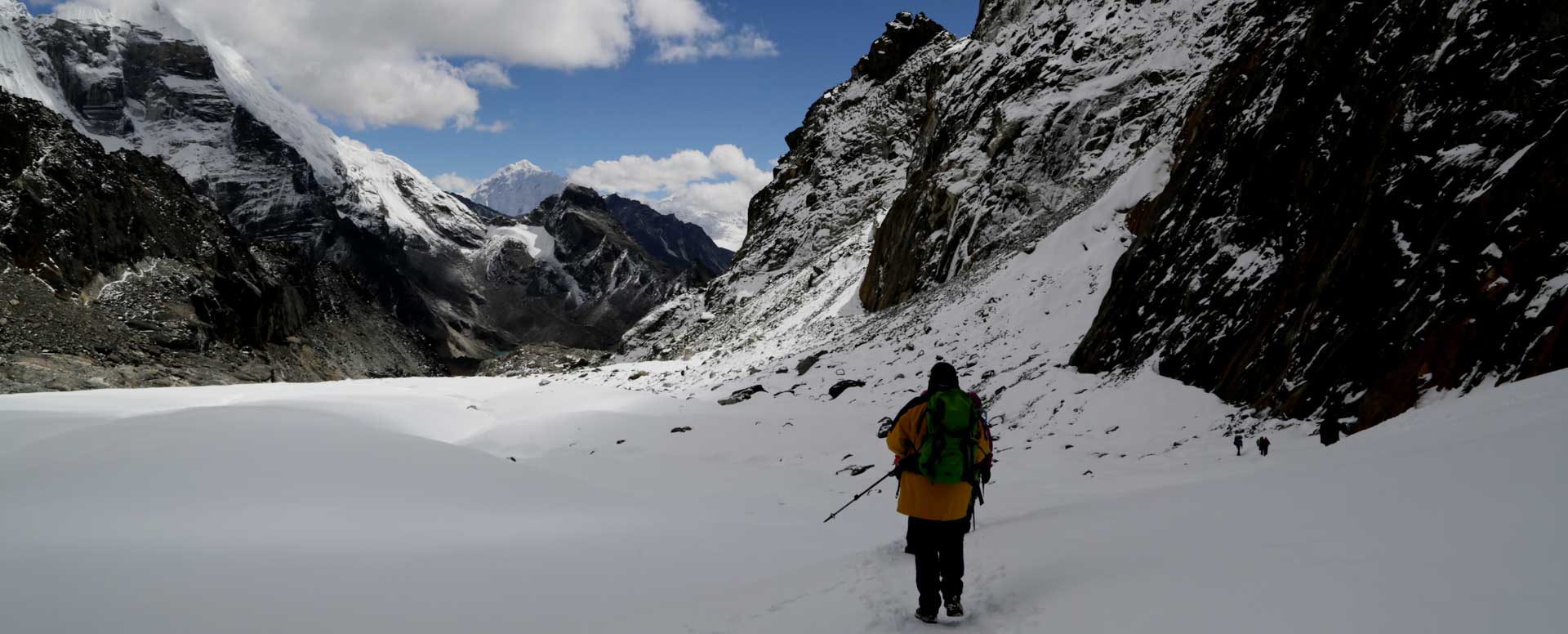 Food and accommodation during Trek
Your guide will always choose the best lodges for this trek. You can see stupendous mountain views as well as comfy beds, hot shower, warm dining and good food. You will enjoy private rooms with en suite facilities and delicious meals served by experienced cooks. There will be clean and fresh running water inside the hotel/lodges on the trek.
High Altitude Sickness and Safety during the trek
Anyone can be affected by Altitude Sickness. However, above recommended 12 days everest base camp trek itineraries are specifically designed to minimize the risks associated with trekking to high altitudes by building in acclimatization and rest days. In the event of any Altitude Mountain symptoms we will ensure that the individual descends to a lower altitude to achieve a quick recovery.
In case of altitude sickness symptoms, you are not allow to go too high too fast and are prepared to adjust the pace if necessary, so risk of AMS is extremely low. On rare occasions, if this occurs to yourself or if you notice symptoms to anyone in your team, please tell your guide immediately.
Note
A comprehensive first aid kit is carried on the trek. However we advise you to carry your own personal first aid kit which includes specific items of preference.
Mild symptoms - such as headache, shortness of breath, light-headache, difficulty sleeping, loss of appetite, mild nausea or vomiting.
Guide and porter salaries, insurance, equipment, transport, food and lodging are inclusive on the cost of guide and porter hire.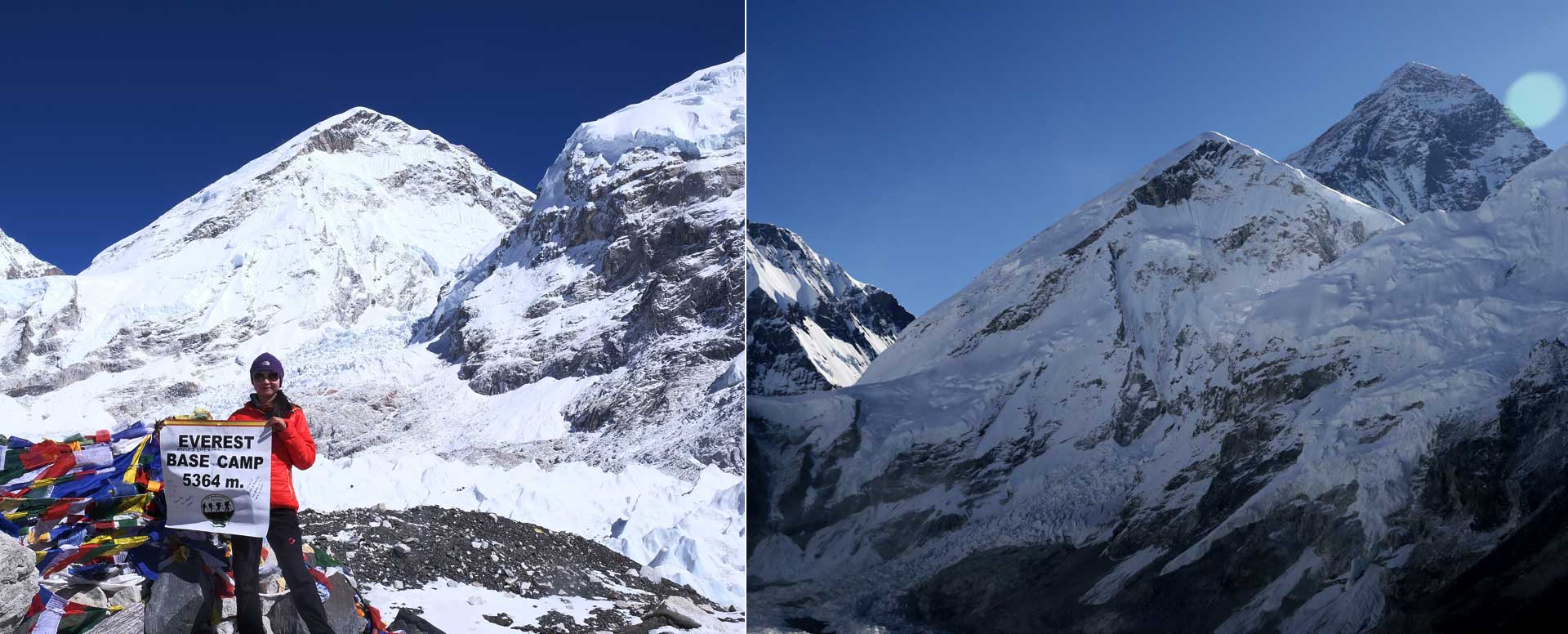 Permit required for Everest Base Camp 14 days trek
Khumbu Pasang Lhamu Rural Municipality Entrance Permit- NPR 2,000 per person
Sagarmatha National Park Entry Permit- NPR 3,000 per person
Where to Obtain the Permits for the Nepal Everest Base Camp Trek
Khumbu Pasang Lhamu Rural Municipality in Lukla
Sagarmatha National Park Entry Permit at the Nepal Tourism Board office in Kathmandu or in Monjo at the park entrance gate.
Documents Required to Obtain Everest Base Camp Trek Permits
For the Khumbu Pasang Lhamu Rural Municipality and Sagarmatha National Park permits, your passport details are sufficient.
Trekking Equipment for Everest Base Camp 12 Days Trek
It's important to pack the right items when you are on adventure. Don't forget important things, and definitely don't bring too much as you and/or your porter won't be happy with a load that's too heavy. Here is a list of what you need for a comfortable trekking adventure in Himalayas.
The Essentials
Shoes - Lightweight hiking boots are great. Make sure they are comfortable and you have worn them in before arriving in Nepal. Trail running shoes will work for short hiking too, which are lighter but not ideal if it rains or snow up in the Himalayas.
Trekking pants
T-shirts - Lightweight, quick-drying
Shorts
Long-sleeved shirt
Fleece
Rain jacket or rain coat
Down jacket
Socks
Sleeping bag
Sunscreen
Sunglasses
Hat
Backpack - With a good waist and chest belt; a light one should be enough (e.g. 45 liters capacity would recommend)
Cash - Bring enough rupees to cover your trek. Once you begin trekking, there are no more ATMs (except in Namche)
Water - 1L bottle should be enough. You can refill and put purify tabulates or buy new bottles in tea houses along the way
Optional
Trekking pole(s)
Small first-aid kit - Band-Aids, Diamox (for altitude sickness), antiseptic cream
Hand sanitizer
Toilet Paper - Which you can buy along the way
Quick-dry towel
Soap / Shampoo
Flashlight / Headlight - A headlight is handy at night, especially since electricity comes and goes pretty often
Dust mask - For dusty sections of the trail
Camera
Sleeping bag liner
Buying & Renting Gear when you are in Kathmandu
If you forget something you don't have to worry. You can buy anything on this list in Trekking Store around Thamel, Kahtmandu. Just make sure that save some time before your trek to go shopping. Kathmandu has both brand-name and local trekking gear shops that cater to the thousands of travelers coming to Nepal each year who lack all the necessary equipment. To rental gear or buying, please check at least 2 shop to know the price and quality. Always ask for good rates.
Environmentally friendly
Water bottle to refill the boiled water from the lodges or iodine tablets to purify the water, rubbish bag to bring till the lodge or to the right place.